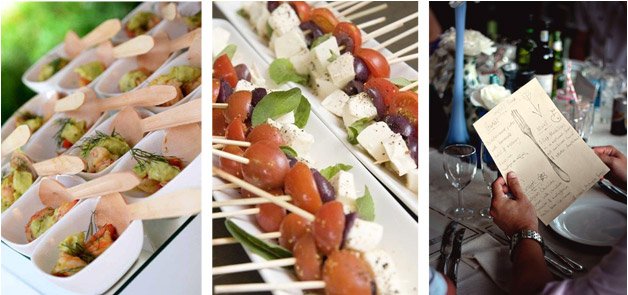 MENU- GOURMET SHISA NYAMA FINGER FOOD
Snacks on arrival
Kettle crisps
Mini samoosas
Spiced nuts and droewors
Served on platters (off the braai)
Phutu stack(pap tart)- layers of pap, chakalaka, mince
Mini boerie rolls with onion gravy
Mini chicken drumsticks- fiery and saucy
Saucy bean salad served in disposable containers with wooden forks
Mini prawn bunnies
Fruit and brownie skewer – served with chocolate ganache
MENU – VALENTINES FOOD STATION – DELIVERED
Sushi – prawn California rolls; salmon roses; prawn towers
Mini Beetroot pasta with ricotta, rocket and pine nuts served in small bowls
Smoked salmon with lemon cream and cracked black pepper blinis
Roasted red pepper tartlets topped with Danish feta
Roast beef on mini Yorkshire puddings served with a beetroot relish
Strawberries on skewers served with chocolate ganache
Red velvet cupcakes
MENU – MOROCCAN / MIDDLE EASTERN CANAPES
Starters – served on platters
Khobz bread sticks
Moroccan flat bread
Beef kofta with spicy tomato sauce
Moroccan Chermoula Calamari. Salad
Marinated Moroccan Olives
Butternut & harissa hummus
Baba ganouj – This is a traditional Moroccan roasted aubergine (eggplant) pate with, garlic and lemon juice and olive oil.
MAIN- FOOD STATION
Grilled chicken kebabs – grilled skewered chicken marinated in Moroccan spices
Lamb Tagine with olives & preserved lemon
Cous cous Marrakesh – This couscous dish combines dried fruits and nuts with an earthy blend of Moroccan spices
Tabbouleh – Bulgur, tomatoes, cucumbers, finely chopped parsley, mint, onion, and garlic and seasoned with olive oil, lemon juice, and salt, minty carrot, pistachio & feta salad
DESSERT
Exotic Moroccan chocolate cake, with dates, nuts and Belgian chocolate. Served with cardaman cream
MENU – WEDDING – MIDLANDS WINTER
Canapes
Seszuan duck spring rolls with a coriander plum dipping sauce
Marinated med veg and olive tartlets topped with caramelized onion and feta
Mini chicken kebabs served with a salsa verde
Phyllo cigars filled lamb and feta, served with a tomato & coriander relish
Calamari chargrilled served in mini jars topped with rocket mayo & pickled cucumber
Cucumber and mint sandwich rounds topped with smoked salmon and salmon roe
STARTER – PLATED/ 7.10PM/ 390 PAX
Smoked salmon and leek tart served with a cucumber and mint puree, watercress, beetroot shavings and horseradish (veg option – ricotta, leek and pepper tart)
MAINCOURSE – PLATED
Chicken roulade, lemon sauce and crisped phyllo with a charred artichoke, pepper and olive salsa, topped with micro greens
(veg option – wild mushroom and baby spinach roulade)
Or
Deboned lamb leg (stuffed with rosemary, garlic & aubergine) with a rosemary crumb crust served with roast onions and parsnips and smoked sea salt potato baton
DESSERT AND CHEESE
Chocolate truffles on sticks served with dips- salted caramel, espresso syrup and pistachio crush
Glass stemmed fruit bowls- strawberries, melon, red grape, pomegranate, blackberries and berry syrup
Mini orange zest white chocolate mousse pots
Hazel nut and sponge meringue cakes (served with strawberry cream)
French brie, port preserved pear, melba toasts, roasted nuts and cranberry, fig preserve
MENU – LAZY 5 COURSE ITALIAN SIT DOWN MEAL
Antipasto – served on boards to tables
Pane & oil: a selection of artisanal baked breads, served with extra virgin olive oil with different infusions & balsamic vinegar
Affetato: traditional Italian selection of proscioutto, coppa, mortadella & salami's
Zucchini Carpaccio: thin ribbons of baby marrow & organic rocket drizzled with extra virgin olive oil, lemon zest, lemon juice, sea salt, black pepper & pecorino shavings
Insalata Caprese: layers of sun ripened tomato, mozzarella, sweet basil, extra virgin olive oil, sea salt & black pepper
PRIMI
Pasta al forno alla Norma: baked rigatoni pasta layered with sweet basil infused tomato sauce, black olives, brinjal, mozzarella & parmesan cheese.
SECONDI
Cottaletta di Pollo: Thin slices of chicken breast crumbed and fried, served with fresh lemon wedges
Porchetta: rolled organic pork loin & belly rolled with fennel seed, sea salt, black pepper, garlic, sage, Italian parsley, rosemary, pepperoncino, thyme & lemon zest.
CONTORNI
Gataeau di Patate: Mashed potato, egg yolk, pecorino & parmesan layered cake
Fagiolini in Umido: string green beans sautéed with olive oil, fresh chopped tomato & onion
Fagioli all'ucceletto: this Tuscan cannellini bean salad is drizzled with extra virgin olive oil, rosemary, sage & garlic
Peperoni: pan fried yellow & red peppers with olive oil, red nion, tomato & oregano
Insalata di Cavolfiore: lightly steamed cauliflower salad tossed with extra virgin olive oil, garlic, capers, black olives & Italian parsley
DOLCE
Ice cream cones served off paddles- pistachio/ chocolate/ limone