Wedding fever!
This year we've had more wedding requests than ever before.  There is nothing better than being such an important part of someone's most memorable day and that is why we take our prep work for these events seriously.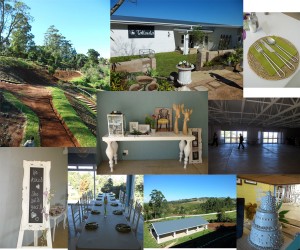 Part of that prep work means that we like to be familiar with all new venues in and around Durban to help advise brides on what they can expect from a logistics perspective on the day.  This month, Olive Twist had the opportunity to visit three fantastic new venues:
Talloula is based in Botha's Hill and is a mere 25 minutes outside the Durban city centre.  This is great news for those brides not wanting their guests to pay for overnight accommodation, also, it is large enough to seat 200 guests comfortably. The first to attraction when you arrive is the lovely view of the dam and wetland from the expansive veranda which wraps around the main function room.  There is a chapel in the garden and an area for pre-wedding canapes.  All amenities are brand new and the main function venue has a dance floor and folding doors the entire length of the room.  The only drawback for us is the fact that they do not allow outside catering (let's hold thumbs that this changes in the not so distant future).  Glynnis Dirksen, the owner, whom we met on our visit, and her lovely team are well known in the events industry.  They are known for being calm under pressure with a keen eye for detail – we wish them all the best with this beautiful venue.
We were really excited to visit this beautiful venue situated in Nottingham Road called The Cairn of Old Kilgobbin.  This venue perfectly matches the Olive Twist style of catering which is intimate and relaxed, but still elegant, with a whimsical touch. I couldn't help but be a little bit jealous that it wasn't available when I got married.  This is the perfect venue for a classic country, lunch type wedding with a rustic charm.
A more contemporary and modern venue in Nottingham road with absolutely breathtaking views is Netherwood.  This venue can cater for up to 300 people and is the type of venue which can  bridge the gap between vintage elements and a more modern appeal. It is stylish and will certainly impress our overseas clientele. We loved the architecture with its use of glass, steel and natural stone and immediately thought of ways we could incorporate these materials in our food presentations.
Whatever venue a bride chooses for their special day it is so important not to feel trapped by traditions that are outdated and that don't apply anymore. As a bride you can set your own rules, just make sure that everyone enjoys themselves.